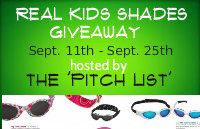 Something that I think about when it comes to my little girl is sun protection, especially for her eyes. I hate to say it but we do end up staying inside a lot more than we probably should. We have a large house with tons of space for P Grizl to run around and play inside and she has a 'thing' about stepping in the grass when I take her outside so it ends up being her just sitting on the sidewalk, which is nice sometimes too. 😉 The times I think about needing eye protection the most is when we are in the car. At that point, there's nothing I can really do to block the sun from her face other than holding my hand up there nonstop and nobody wants to do that.
Children have an increased risk of sustaining permanent eye damage until they are 10. As much as we are all on top of being sure our children wear sunscreen when being exposed, we really need to be on top of protecting their poor little eyes. The lens on your eyes doesn't repair itself so once there is damage done, it's done for life and any future damage will be done on top of that.
We got this amazing little pair of sunglasses for my little darling from Real Kids Shades. This specific pair is actually for the 2-5 age range and our little girls is only 20 months. I knew that the sizing would be a bit off but I thought it was smarter to get a size up rather than current size that she wouldn't be able to wear as long. I also chose a pair that had a band to keep the sunglasses secured to her head. Because it's such a new thing to her, she refused to leave them on even long enough for me to get a photo. In time, I'm hoping these will become a standard for when we go out and about. Especially since we have snow for such a long period of time in Idaho and I know how dangerous that reflection can be for her.
So what makes these any different than other sunglasses?
Firstly, these aren't a toy. Most sunglasses (especially inexpensive ones) that you buy for your children are more of a toy than anything else. 
They are made with shatterproof and impact resistant materials which is perfect for little ones. 
The wraparound frames help to block our peripheral light. I know that's one of my biggest pet peeves in my own pair of sunglasses. 
They block 100% of UV-A & UV-B rays.
They're specifically designed to fit an infant and child so you can be sure they will stay in place and be comfortable.
Some models are able to be fitted with prescription lenses.
100% replacement warranty.
On top of everything else, there is real value in these shade. At a retail price of $15-20 you can see how the value is there for a quality set of sunglasses compared to the numerous others that you may buy that are not only ineffective in comparison but also easily breakable. 
Be sure to enter to win your own Real Kids Shades below!!
DISCLAIMER: No purchase is necessary to enter. Void where prohibited by law. The odds of winning are based on the number of entries received. This promotion is no way sponsored, endorsed or administered by, or associated with, Facebook and is Facebook-compliant. Winners will be notified by email from a 'Pitch List ' Blog. Winners will have 36 hours to respond or risk forfeiting their prize. Prize fulfillment is the sole responsibility of the sponsor. This blogs participating may not be held liable for Sponsors who do not fulfill prize shipments.