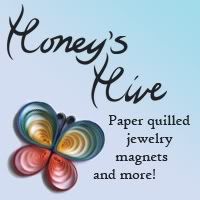 Honey's Hive is an amazing little work at home mom store in Malaysia I came across one day run by Honey. A teacher by profession, she is now a SAHM and homeschooling her 5 year old daughter for Kindergarten.
"I have always loved crafting of all kinds and have been paper quilling since I was ten years old. I've been making paper quilled jewelry for about six years, but only had time to start my etsy shop after quitting my full time teaching job. It's great to have a creative outlet with a flexible schedule! My daughter enjoys doing a little paper quilling or other crafts by my side while I do my quilling. I guess she is following in my footsteps as she just loves all crafts and art activities."

I love to see children get interested in their parent's work, it's such a precious bond.
In this store, I saw some of the most unique jewelry and accessories I've ever seen. I say this because at Honey's Hive everything is made using a quilling technique. Don't know what quilling is?
Look at these beautiful hair clips I was sent for my little girl.  These were created using long but very thin strips of paper and coiling, then shaping into the desired shape. They are then set and sealed. This makes them pretty much waterproof which is really great when they are hair clips for a toddler that puts everything in her mouth.
Check out Honey's photo tutorial for making this daisy. =) It will give you a better understanding of how much work, effort, and attention to detail is put into every creation at Honey's Hive.
Look how beautifully these hair clips tamed my little girl's hair from
<< this----
—-to this.>>